Are you detail oriented? Creative? Have a growing love for healthy living and fitness? A quick learner with a conscientious and teachable spirit?
Then read on to find out if CoachE'Nation is a good fit for you.
Shalom Shalom and welcome to today's post.
CoachE'Nation (hereafter referred to as The Nation) has an opening for the role of Digital Presence Coordinator (coaching and content.) This position is hybrid and applicants MUST live in Lagos and be available to work on location (onsite) 2 to 3 times a week and offsite the rest of the time.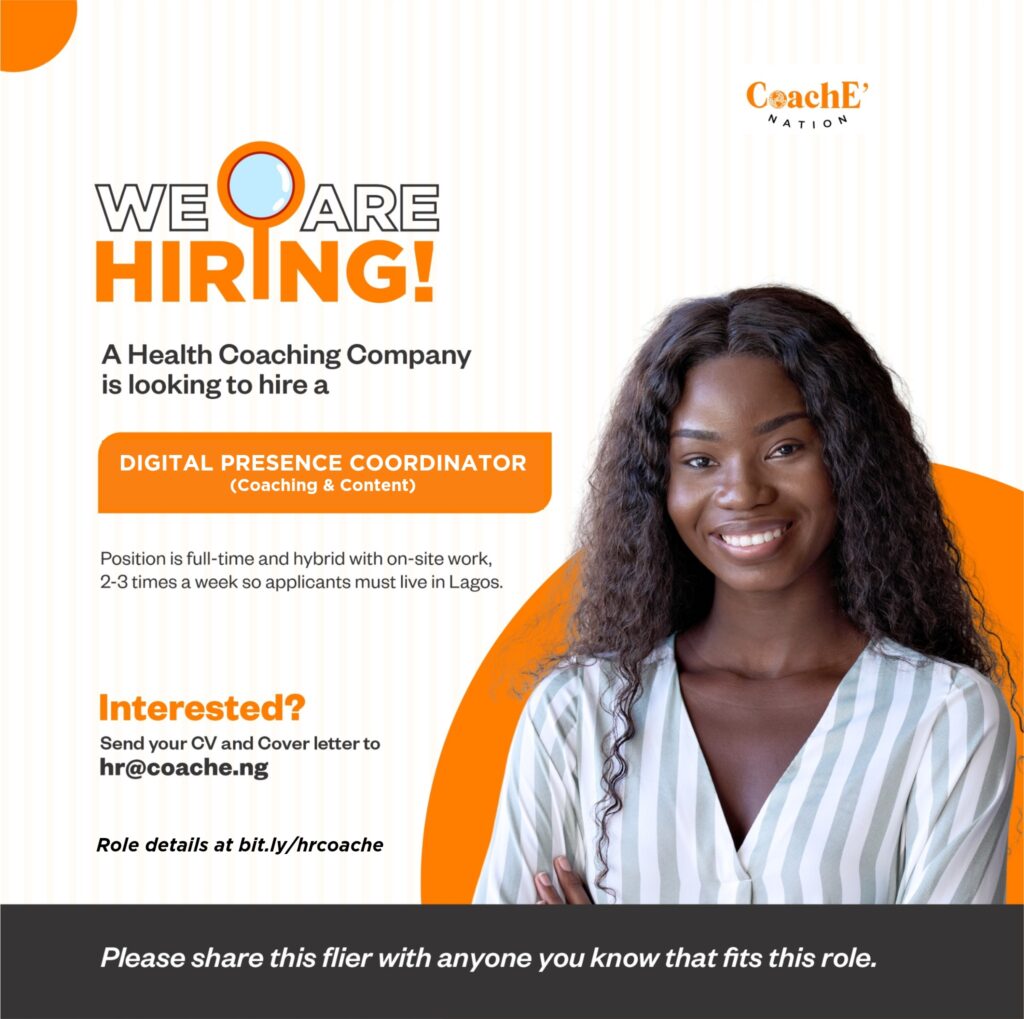 To fill this role, we will need someone with two sets of skills – Professional and Soft skills.
SOFT SKILLS REQUIREMENTS
1) High level of self discipline and self mastery. This is a must or else you will struggle in this role. Working at The Nation requires you to be diligent, hardworking and goal oriented. We expect you to put in your best at the job.
2) Time management skill.
The way you manage your time in your personal life will have a huge impact on how you show up at work – on time, meeting timelines and a good respect of the time of others.
3) A growing love and passion for Health and Fitness.
The Nation is a company focused on Healthy Living and the Health Optimization of her clients. Anyone working with us MUST have authentic passion for healthy living and be ready to champion the cause.
4) A teachable spirit.
This role will involve a lot of teaching, learning and growing, so applicants must be willing to learn new things.
The role of a Digital Presence Coordinator is highly operational, involving a lot of focus work on The Nation's activities and processes.
As a result, the following PROFESSIONAL SKILLS are needed
1) Creative writing and proofreading skills.
There are Blog posts to be written, WhatsApp statuses, Emails, YouTube editing and publishing (You'll need to send how videos should be edited with effects and texts etc. to the Video Editor. Note, you won't be involved in the direct editing of videos, that's the editor's job)
2) Technical know-how
This includes knowledge of email marketing platforms like mailchimp, the use of google forms, google sheets, WordPress AND Microsoft Office as coaching will primarily be carried out on this platform. These skills will help in handling our various content channels. Note – You will be taught the technical aspects of this role as specified above BUT you should at least have basic knowledge of the technical know how requirements.
3) Skilled in the use of LinkedIn and it's optimization, Facebook, X, and Instagram.
If you've read this far and you want to apply for this role, kindly send your updated CV and cover letter to Hr@coache.ng
Know anyone for whom this role would be a perfect fit? Then share this post with them. Thank you!
All the best as you apply.